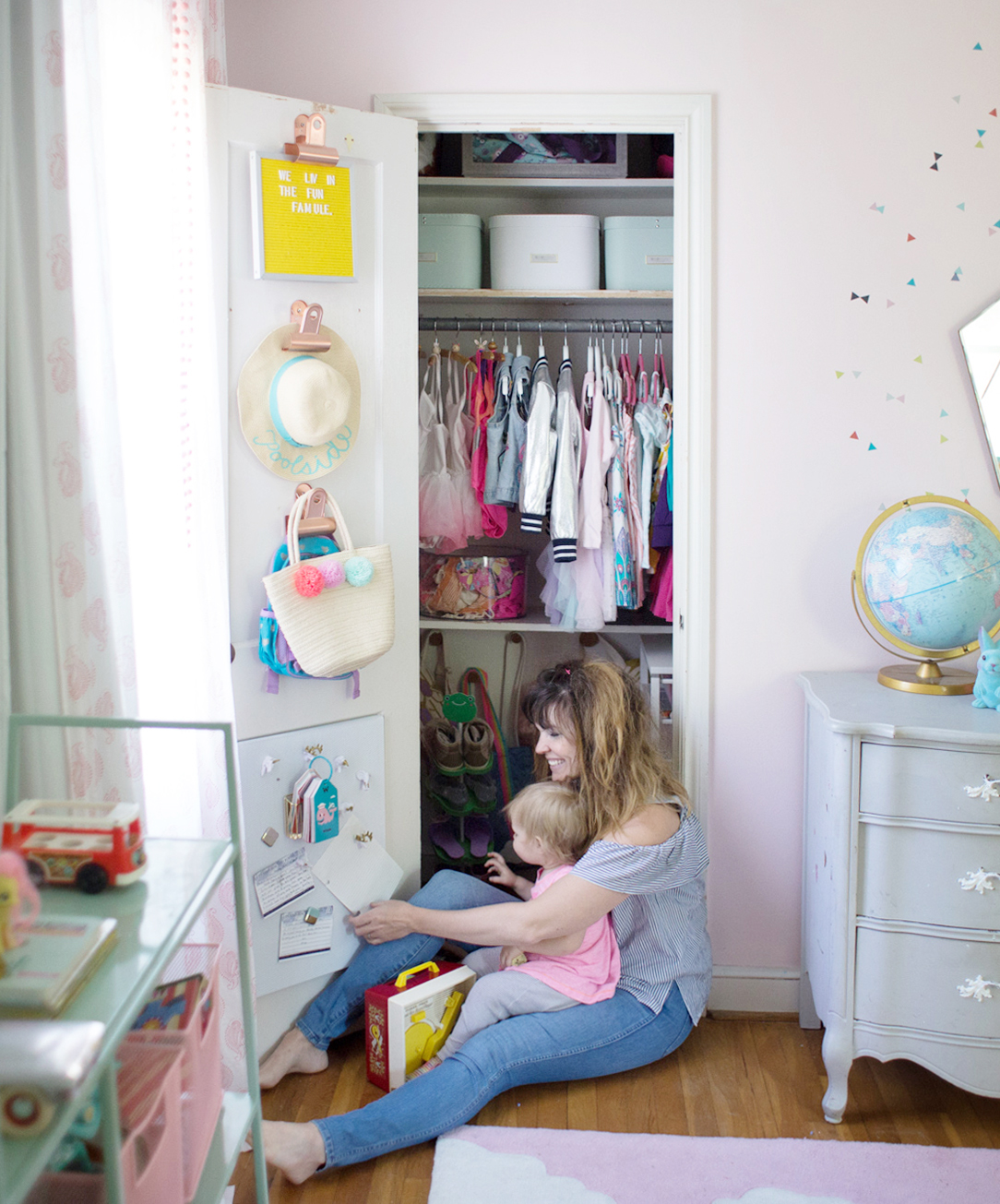 So, we just finished up organizing the closet that Vivi and Brigette share.  I have largely been ignoring this closet recently; it's become a place where I just shove stuff in and shut the door, hoping nothing will spill out.  It can feel overwhelming getting all the kid stuff in order, especially in a shared room.  Lately, it has seemed like stuff is just exploding out of everywhere, so I was really excited to tackle this project with The Container Store.
(pictured above: copper clips; magnet board; shoe storage rack; Oskar boxes; white baskets; acrylic hatboxes; rainbow rack; poolside hat)
Here is a little glimpse of the before.  It's pretty much a disaster, and this is even after I purged a lot of things that we no longer need!
I adore the way it looks now, though.  I really wanted it to be easy to put things away, and also I wanted the girls to be able to put things away, and I think we accomplished that.  I was really surprised to find myself liking clear storage; I bought these acrylic hat boxes (they are so cute), and these clear drop front boxes (they open from the front – so genius!), and I love that I can quickly see what is in them without having to actually pull them down and dig through them.  Right now, I have one for Halloween costume items, soccer stuff, their bags for traveling, ballet, and gymnastics . . . and a few other things.
I also love all the cute hangers; it really does make a difference!
(above: wooden animal hangers; white wood hangers; huggable hangers; oskar boxes; acrylic hatboxes)
The girls are crazy over these shoe racks.  While they don't hold a ton of shoes, we also have some in that Elfa storage rack, and we sometimes keep a pair or two by the door.  The Elfa rack and that rainbow rack hold toys – and it's really easy for the girls to open a drawer and get what they want, and then put it back.  I love that rainbow rack because they have so many teeny tiny things, and it works great to keep them organized.  There is a pony drawer, a princess drawer, a doctor drawer, play food drawer . . . well, you get it.
I also put some knobs on the back wall for them to hang up bags, hats, and other accessories.  Ellie is especially fond of this feature, because she can reach it all.
I also love those white baskets.  One basket is full of swim stuff (bathing suits, sunscreen, swim diapers, and goggles) so I can quickly grab what we need for a morning at the pool or playing in the sprinkler.  The other has some of their favorite blankets we rotate in and out, and that acrylic hatbox has frequently used ballet items, like their shoes, tights, and leotards, so I can easily get them on ballet mornings.
I bought these gigantic copper clips, which are just so pretty, to hang up bags, hats, or artwork, and put a magnet board at the bottom so that they can display favorite cards or other random collected items they are loving.  It's so fun to make use of the back of the door!
I also used some of those beautiful Oskar boxes to store toys that aren't being played with.  I'm planning to stash away items they aren't loving, and if they don't ask for them after a bit, I'll give them away.  I'm hoping this will help us keep the clutter at bay.  Out of sight, out of mind usually works well for them, so that is my plan!  It feels so good to have this closet conquered; it kind of made me want to cry every time I opened it, and now it just makes me happy.  Plus there is SO much less stuff scattered around their room now that the closet space is so efficiently used.
Be sure to check out the video about this transformation on my instagram!
Thanks so much to The Container Store for working with me on this, and sponsoring the video content on Facebook and instagram!  I love working with brands who work to make our lives as moms easier, so we can focus on the important things.
Powered by WPeMatico